Our Partners
CFC participates in joint projects with:



 PwC



  Lisboa School of Economics & Management


CFC is a member of the following organizations:


 European Association for Comparative Economic Studies (EACES)



 European Academy of Management (EURAM)


 European Institute for Advanced Studies in Management (EIASM)

 Eurasia Business and Economics Society (EBES)



 Eastern Economic Association (EEA)



 European Finance Association (EFA)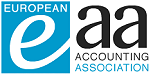 European Accounting Association (EAA)


Have you spotted a typo?
Highlight it, click Ctrl+Enter and send us a message. Thank you for your help!
To be used only for spelling or punctuation mistakes.