Researchers from Laboratory of Corporate Finance will present their articles on the EURAM 2021 Online Conference
С докладами по тематике Лаборатории выступят Ирина Скворцова и Анна Вершинина, Артем Анилов.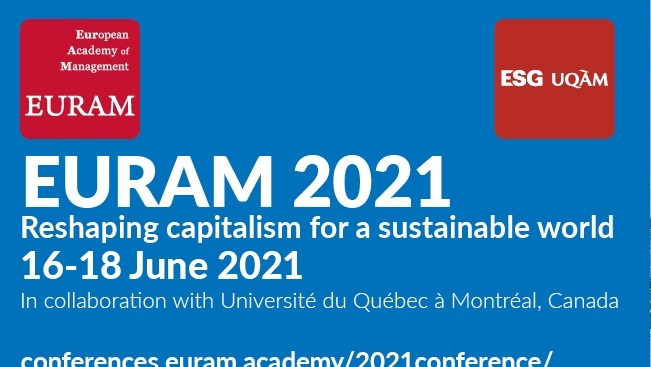 Do Cognitive Biases Affect M&A Performance in Emerging Markets? Evidence from Russian Firms. Authors: Irina Skvortsova, Anna Vershinina
In this paper we investigate cognitive biases as one of potential reasons of controversial results of mergers and acquisitions in emerging capital markets. We focus on two cognitive biases namely CEO overconfidence and availability bias that significantly influence CEO behavior encouraging them to be irrational in M&A deals.Based on 237 M&A deals closed by Russian firms during the period of 2005-2019 we empirically prove that CEO overconfidence destroys value and availability bias creates value in M&A deals in the Russian market. We identify that due to a low level of development of corporate governance system in emerging capital markets all corporate governance mechanisms may constrain CEO irrationalities in mergers and acquisitions. 
What Incentives do Boards Provide with Inside Debt? The Evidence from Payout Policies. Author: Artyom Anilov
 The paper investigates whether and how the boards can apply inside debt compensation to CEOs to influence payout decisions. The paper contributes to the literature, first, by showing that more inside debt holdings of a CEO increase both the probability and the level of share repurchases. Moreover, inside debt incentivizes a CEO to choose repurchases as a main channel of payout policies. The results demonstrate that inside debt aligns CEO interests not only to those of debtholders, but also to those of shareholders, and therefore inside debt should become effective tool of monitoring CEOs by the boards of directors. However, different components of inside debt (deferred compensation and pension benefits) affect payout decisions differently. The results show that deferred compensation as a shorter-term type of compensation provides incentives for repurchases, while longer-term compensation in the form of pension benefits provides incentives for cash dividends. Therefore, inside debt provides additional flexibility to the boards in monitoring and influencing CEO decisions and performance. 
 You may find more about the conference via the link:
https://www.facebook.com/euram.eecc/